A DVD burner is a utility program in the truest sense of the word. You want it do one task and do it well. So its important that it startup quickly and be simple and reliable to use.
I was unimpressed with the stripped-down version of Nero that came with my new DVD writer. It was bloated, slow and complicated to use. There were too many unnecessary steps involved in burning a DVD with Nero essentials 9.0. So I went looking for an alternative and found a freeware application called ImgBurn that does a better job.
Features
ImgBurn is completely free. Its also a relatively light download. Using imgburn you can burn the full spectrum of optical media – writable and re-writable DVDs, CDs as well as blu ray disks.
ImgBurn starts up faster than the Nero 9.0 essentials that came with my burner. After the splash screen you see this simple window with large buttons that tells you exactly what you can do with this software: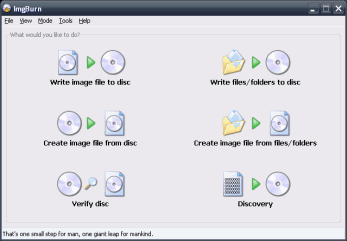 ImgBurn main window
Just choose an option and off you go!
Another great thing about ImgBurn is that it integrates well with Windows. For example if I right click on an ISO image file I get the option to burn it onto a DVD/CD using ImgBurn: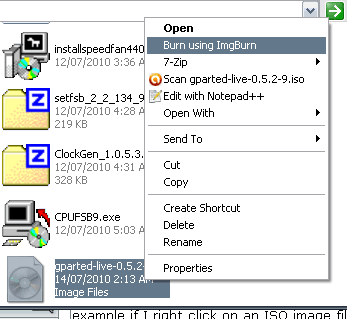 Right click context menu integration
This definitely increases the usability of ImgBurn. Its a lot more intuitive when I can just right click on an ISO file and choose to burn it using ImgBurn.
In terms of burning performance, ImgBurn does pretty well. It automatically detects the speed of my drive and the media I am using. I can carry on doing other tasks like browsing the web or listening to music while the DVD writing is going on in the background. ImgBurn seems to be very light on resources.
ImgBurn includes an option to automatically verify the data once its burnt. When ImgBurn is done it plays a cheerful little sound clip to let me know :).
Shortcomings

Every software has its flaws. ImgBurn is no exception.
When you start it up for the first time ImgBurn opens a log window that displays all sorts of technical stuff. Its pretty much useless unless something goes wrong so you should close it. ImgBurn should not be displaying this window by default. I am sure it will be confusing to most users..
The biggest downside to ImgBurn is that it doesn't support multi-session disks. That is you can't keep writing data to a single disk multiple times. This is definitely a feature that I sorely miss. With the large capacity of DVDs its difficult to fill an entire disk in one session so multi-session disks are useful. Unfortunately the author of ImgBurn has made it clear that this is not a feature that he will be including. So a big downside!
The sound clip that it plays at the end of a burn is nice to start with but I can imagine it becoming annoying after a while. Fortunately you can turn this sound off under tools > settings > sounds.
Conclusion

ImgBurn is a great piece of utility freeware that does one job and does it well. It integrates well with the Windows right click menu, runs quickly with low overhead and is simple to use. A little UI polishing and support for multi-session disks and it would be darn near perfect.