Sidebar Message is a WordPress plugin that allows you to display messages in your WordPress sidebar that only appear on specific posts or pages. Messages can be fully customized using the visual editor. There is also the option to add an eye-catching icon to the message.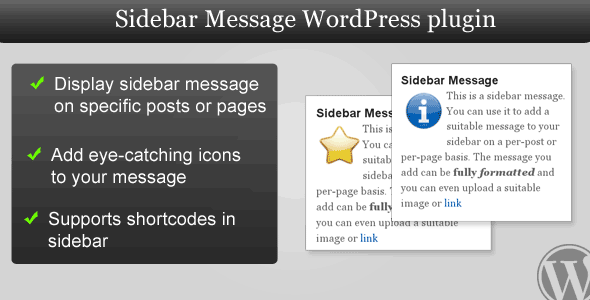 Features
Display custom sidebar content on a per-post or per-page basis. Sidebar message is composed on the edit post or page screen.
Sidebar message is displayed by a widget. Full drag and drop control over where the widget appears in your sidebar.
Format the message using the visual editor. Add text effects like underline, italics or bold. You can even upload a custom image.
Optionally add one of a dozen icons included with the plugin to your message.
Supports shortcodes in the sidebar message. Add 3rd party plugin or theme functionality in your message.
Demo
Please see the right sidebar of this page. The purchase link is displayed using this plugin.
Screenshots
Requirements
This plugin requires WordPress 3.0 or newer.
$10