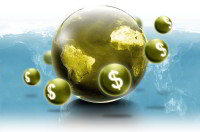 SWIFT Wire transfer, or T/T as its commonly called in Pakistan, is one of the safest ways to receive payment from foreign sources. SWIFT is a secure messaging standard that banks around the world use to send instructions to each other to make payments on their behalf. This is the basis of international wire transfer. Budding Internet entrepreneurs and freelancers may want to know how to receive money via this method so I have written this guide for them.
Obtain bank details
Each bank in the SWIFT network has its own alpha-numeric Bank Identification Code (BIC). In Pakistan this is commonly referred to as the SWIFT code and is one of the critical pieces of information that you will need to give the sender before he can remit your money.
Go to your bank branch and ask the customer service personnel to help you obtain the following information about your bank:
Name
Address
SWIFT code (BIC)
Most banks in Pakistan are connected to the swift network via a correspondent bank. This correspondent bank acts on their behalf. If your bank has a correspondent bank then obtain this information about it:
Name
Address
SWIFT code (BIC)
The number of your bank's account with them.
If the sender is an individual you can receive the money into a foreign currency or rupee account . But if the sender is a company then according to State Bank of Pakistan rules your earnings must be credited to a Pakistan rupee account. So keeping this in mind, note down your own details:
Full name
Address
Bank account title
Bank account number
Type of account
The most critical pieces of information are your bank's name, swift code and your own name, account number and account title.
Send the details to remitter
Once you have collected the above information send it to your client or employer. He will then need to go to his bank and seek assistance from the customer service personnel there. They will help him fill out a form drawing on the information that you sent. Some banks also offer this service online. Once the forms are filled the money will be wired to you.
Receiving the money
You will receive the money in 1-4 days time. Your bank in Pakistan will contact you when the money arrives.
If the remitter is a company you will be asked to fill out a declaration form. In this form you will need to specify what goods and services you supplied to your buyer in return for the money. Just specifying "IT services" may suffice.
Once the money is credited to your account you can ask your bank for a Proceeds Realisation Certificate (PRC). This document shows how much money you received and the currency exchange rate used to convert the money to Pakistan Rupees.