YaST is the system configuration and software installation tool that comes with OpenSUSE Linux. You can use YaST to easily install, remove and update programs on your Linux system. YaST downloads software from various online repositories that keep collections of  organized software. By default YaST only includes the official openSUSE repositories. But to install most software packages you will need to enable community repositories like the Packman repository. This is how you go about doing it.

Go to your kickoff app launcher menu on your bottom panel > Select My computer > Install/Remove software to startup YaST.Then enter your root password to login. YaST will now download updates from the net. You will just have to wait this part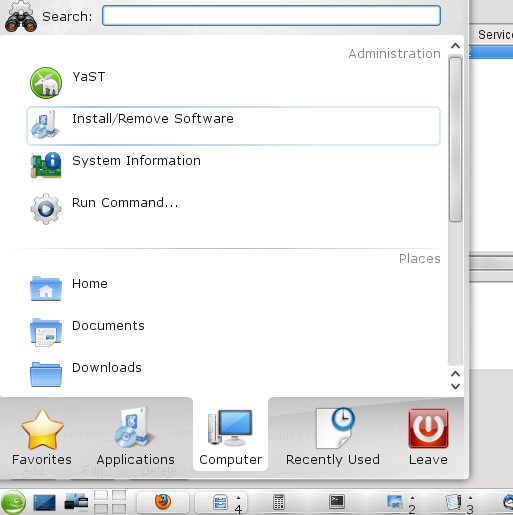 Launching YaST from the KDE kickoff menu
After its done downloading updates you will see the default YaST software installation screen. Click on the Configuration Menu > Repositories to see the list of active repositories. On the next screen click on the add button in the bottom left corner. You will now see this window:
Choose "Community Repositories" and click on the next button. YaST will now proceed to download a list of community repositories that OpenSUSE recommends. On the next screen you can select your choice of repositories by checking the box next to their names:
I recommend selecting the Packman repository as it has a lot of extra applications that are very useful. Click on ok and YaST will proceed to add the repository. You maybe asked to import the repository's GnuPG key. Just click on the import button to confirm that.
That's about it. YaST will add the repository and take you back to the newly refreshed repository list window.